March curlBOX: What's IN my BOX?
We're excited to share another curlBOX with you and there are a few variations of the March curlBOX so we want to be sure that you can follow up on what you received right here.  So here's the skinny on everything in the box and why we chose it!  It's the STYLE issue so it's all about styling and we brought you some brands that have probably been on your "to try" list for quite some time, a few brand new products that JUST hit the market and a few hidden gems that you may not have even heard of and a TREAT for Spring!
1.  Ouidad | Moisture Lock Leave-In Conditioner (8oz $22):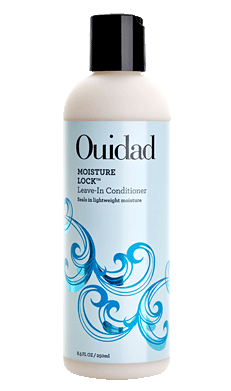 We've been hearing people RAVE about Ouidad for quite some time now and if you are like us and can't help but go INTO Sephora every time you're at the mall then you've probably picked up the products and read the labels and kind of shook your head thinking, "I can't spend another dollar or something that may or may not work" … So that is why we brought you this product!  This is a lightweight moisture treatment for curly hair inspired by skincare science. It creates a "moisture foundation" by infusing individual strands with conditioners vital to healthy hair and great looking curls! Prickly Pear Cactus Extract draws moisture from the air and seals it in for superior conditioning. Antioxidants Green Tea and Vitamin B5 protect hair and promote shine. And Arnica Extract, a healing agent, promotes long-lasting hydration and helps seal the cuticle layer to prevent frizz and encourage healthier hair and scalp.
2.  Curls | Curl Gel-les'c – Curl Serum/Gel (8oz $25):
There's a serious obsession with magazines around here and we couldn't help but see the Curls brand in the InStyle magazine and tons of others.  If you're getting those kind of cosigns then this something we needed for you!  And we scored you a coupon if you decide you want to buy it!  It isn't a gel, and not quite a serum it's Curl Gel-les'c (pronounced Curl Jealousy). This botanically based, organic curl styler imparts brilliant sheen, banishes frizz, and holds those twirls in place! Great for humid climates. Transform dry frizzy locks into the enviable curls that every woman dreams of, with Curl Gel-les'c. Go ahead, your curls deserve it!
3.  Brown Butter Beauty | Detangling Cream Leave-In Conditioner (8oz $12.50):
This may be one of those products that you weren't "up" on and were here to tell you that they are fab!  Brown Butter Beauty is out of Brooklyn and if you check out the site you will see that they have a reasonably priced, yet amazing selection of hair goodies.  We loved this leave-in too! This rich conditioning cream helps to replenish moisture, improves wet combing, imparts shine and reduces frizzy flyaways by replenishing the lipid content on the surface of the hair's cuticle. You can use this conditioning cream as a detangling rinse or leave in conditioner.
4. Dr. Miracles Curl Care | Tri Pack Sampler (Frizz Control Serum, Soft Hold Creme, Weightless Moisturizing Cream 8 oz $8.99):
We were one of the firsts to get a call from the New York offices to make sure that our members had a chance to try this new product.  These are BRAND NEW products and we got you a little bit to try first!
Because many of us have recently made the conscious decision to embrace our natural hair texture, DR. MIRACLES has created a new specialty collection called Curl Care to help treat and maintain natural, curly, and wavy hair.
Made with a one-of-a-kind formula of honey and vitamins, Curl Care is guaranteed to help curly girls achieve and maintain long-lasting, healthy, and beautiful curls for up to 12 hours.
5.  Beautiful Textures | Curl Control Defining Pudding & Moisture Whipped Curl Cream (15 oz $5.49):
We KEPT seeing these products everywhere and saw one of our fave curly hair experts at a hair meetup and she RAVED about these products so we wanted to try them and here they are!  Who says your Curls, Kinky-Coils, and Waves can't be luminous and versatile…Get the frizz control and definition you desire with Curl Control Defining Pudding. Transform and stretch your tresses to the soft, and shiny look you want to achieve.
6.  Curl MAX | Curl Pudding & Activator Moisturizer (8oz $6):
Did someone say activator?!  Yesssss!  We did!  If you want an awesome moisturizer with argan oil for a reasonable price then you're in the right place.  This is great for touching up your style. Lustrasilk Curl Max Curl Activator Moisturizer is enriched with Argan Oil to provide nourishment and hydration to your hair while restoring elasticity. Revitalize curls and waves with this rich, alcohol-free, non-greasy oil.
7.  Koils By Nature | Variety of Products (12 oz $16-22):
We've had a chance to go to many of the hair shows and the product that we always see everyone on the HUNT for is Koils By Nature.  The secret behind the products is the owner Pamela and she is dedicated to excellence and service and after trying the most popular product, the "Moisturizing Shea-loe Leave-In Conditioner" we gave her a call and asked her if she'd be willing to let you try a few things out from her line.  Some of you received the leave-in and others were able to try the conditioner and gel.  Let us know what you think!
8.  Ultra Sheen | Supreme Super Smooth Flat Iron Protection Spray (8oz $5):
IF you are going to wear your hair straight, now (Spring) is the time to do it!  We know that some would neeeeeeever put heat on their precious curls but some of us do and if you're going to do the "do" …. use protection!
 Whenever it's time for a good hair cut, we think the it's always good to straighten and THEN get your cut so that you can have a FAB shape on the 'fro.  Or maybe you want to flex that amazing length that you've achieved.  If you're straightening it yourself, use this first and if you get your hair straightened professionally, take this with you!
Ultra Sheen Supreme Super Smooth Flat Iron Protection Spray with Pro-Vitamin E and B5 eliminates frizz, leaves hair soft, silky and shiny, for straightening natural, curly & relaxed hair, is a fine mist styling spray formulated to help you achieve professional results by protecting hair while thermal styling.
9.  Mahogany Roots | Jasmine Peach Pomade + Olive & Avocado Hair Butter (8oz $22 – 14.50):
We actually found Mahogany Roots at a hair show and were blown away by how amazing the products were.  We reached out to them and they wanted you to try these two products.  This is some good stuff!  Mahogany Roots produces high-quality, all natural hair and skin care products for all hair and skin types.  Each product is made with all natural raw materials that are organically produced and plant extracts as well as essential oils that has been clinically proven to treat, heal and promote healthy hair and skin.
10. Shea Moisture Soaps | (8oz $5):
When Shea Moisture learned of curlBOX they immediately wanted to send you a treat!  You can look forward to them in curlBOX in the future but in the meantime we want you to try some of their body products!  If you haven't had a chance to dive into them, you are missing out!  Shea Moisture wanted to treat you to some "Spring Clean" and we hope you enjoy it!
11.  Celestial Souls Shower Cap Coupon 20% OFF!
Ever go out of town or just buy one of those pack of a thousand plastic shower caps only to find that it will NOT cover all of your hair??  Ugh!  We reached out to our friends as Celestial for an EXTRA special discount for you to cop one of these super cute and beyond functional shower caps.  Have long locs and need an XL?  We got you.  Have a little one and need a mini-crown?  We got that too!
We hope you enjoyed your box and we've already scored MAJOR goodies for next month.  See you soon!
xo